Contact
If you are interested in our products, and wish to receive additional information, then send a short message to us via Email at:
Please indicate to us which products you wish to know more about.
For specific information, you can reach our product specialist, Tom Lorenz, directly by telephone or by fax.
Tel.: + 49 (0) - 421 - 20144 - 721
Fax: + 49 (0) - 421 - 20144 - 948
---
Impressum

Houpert Digital Audio
Anne-Conway-Straße 1
28359 Bremen
Contact:
EMail: info@hda.de
Tel.: + 49 (0) - 421-20144-22
Fax: + 49 (0) - 421-20144-948

UStID: DE114472720
Geschäftsführer: Jörg Houpert
Verantwortlicher für den Inhalt i.S.d.§ 6 MDStV: Jörg Houpert
Gerichtsstand: Bremen
---
Route
at the Autobahncrossing Bremen take A27 in direction Bremerhaven
descent at Horn-Lehe
use University turnoff
take the middle lane of the road, drive over the robot (you should be able to see the a high tower to your right)
at the next robot turn left into the Anne-Conway Street
the last building on the left-hand-side is the destination, Anne-Conway Street 1
please use the elevator to the third floor
PS: If there is no parking space in front of the houses just ring the doorbell and we will open the garagedoor for you.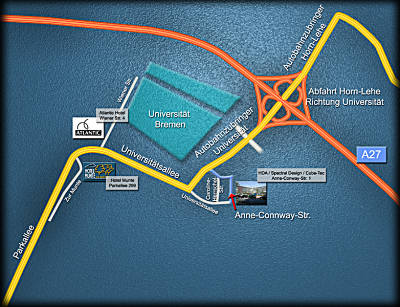 Printable PDF-Version with larger image (132 KB)
Have a good ride!